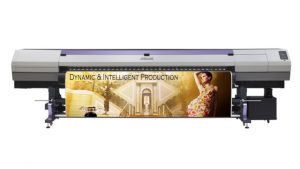 Dynamic & Intelligent Production
---
The totally new SIJ-320UV grand-format LED–UV inkjet printer is a high-performance printer developed using Mimaki's concentrated inkjet technologies to provide good quality printing with a maximum printable width of 3.2 m.
---
Product outlines:
---
3.2 m-wide LED-UV inkjet printer
– LED-UV curing 3.2 m wide grand-format inkjet printer delivers high productivity (Maximum printing speed: 110 m2/h).
– Dedicated roll-to-roll inkjet printer for various signage media, including PVC and other banner materials.
Mimaki's superior print-image quality control technology
– Mimaki Advanced Pass System 4 (MAPS4) reduces banding and uneven color printing.
– Mimaki Fine Diffusion 1 (MFD1), a patented dithering technique, is incorporated in the Mimaki RIP RasterLink6 software.
– The "waveform control" technique ensures ink droplet landing accuracy.
Solutions for uninterrupted printing operations
Nozzle check unit (NCU) automatically detects and cleans clogged nozzles. Moreover, the nozzle recovery system (NRS) uses only good nozzles as substitutes, if the clogged nozzles are not recovered after cleaning. These functions maintain constant printing and reduce waste printing due to defective nozzles.
Newly developed high-performance UV curing ink
The high-performance LUS-120 UV ink is newly developed for SIJ-320UV and possesses durability and flexibility.
Simultaneous twin-roll printing enhances productivity
・Simultaneous printing on two rolls is possible. The maximum mountable media width is 1,524 mm for each role; this capability increases printing productivity.
---
Specifications
SIJ-320UV
Head
On-demand piezo head (4 staggered printheads)
Print resolution
300 dpi, 600 dpi, 900 dpi, and 1,200 dpi
Ink droplet size
Minimum: 7 pl Maximum: 36 pl
Head gap
(Manual adjustment)
1.7 mm / 1.9 mm / 2.6 mm / 3.3 mm
(Distance between the platen and the print head)
Ink
Type
LED-UV ink LUS-120
Color
C, M, Y, K
Packaging
1 liter ink bottle
Ink can be filled up to 3 liters per ink container of the printer.
Maximum print width
3,200 mm (126 in)
Maximum media width
3,250 mm (127.9 in)
(Twin rolls printing with a small drive shaft: 1,524 mm (60 in) × 2)
Minimum media width
210 mm (8.2 in)
Media thickness
1.0 mm or less
Roll outer diameter
Large drive shafts : Φ250 mm or less
Small drive shaft with roll holders : Φ180mm or less
Roll weight
Large drive shafts : 100 kg or less
Small drive shaft with roll holders : 25 kg or less
Power supply
AC 200–240V ± 10% 50/60Hz ±1 Hz, 15 A or less
Power consumption
3.6 kW or less
Operational
environment
Temperature
20 – 30 °C (68 – 86 °F)
Humidity
35–65 %Rh (No condensing)
Temperature accuracy
20 – 25 °C (68 – 77 °F)
Temperature gradient
Less than ± 10 °C/h (± 18 °F/h)
Dust
0.15 mg/㎥ (Equivalent to normal office level)
Dimensions (W×D×H)
5,410 mm × 995 mm × 1,440 mm (213 x 39.2 x 56.7 in)
Shipping dimensions (W×D×H)
5,750 mm × 1,140 mm × 1,210 mm (226.4 x 44.9 x 47.6 in)
Weight
850 kg (1873.9 lb)
Ink set
LUS-120
[C,M,Y,K]
C M Y K
Some of the screens and printing samples in this website are artificial renderings.
Specifications are subject to change without notice.
All trademarks or registered trademarks are the property of their respective owners.
Inkjet printers print using extremely fine dots, thus colors may vary slightly following replacement of the printing heads. Also note that if using multiple printer units, colors may vary slightly among the units due to slight individual differences among the units.
---
---
Precautions for UV printing
Inks and substrates:
Please note that properties and adhesion, weather resistance etc. of ink and substrates can vary. Therefore please test materials before printing.
Some substrates require primer before printing. Please test materials beforehand or ask your sales representative.
Safety notice:
You are dealing with UV light sources that may harm your health. Please follow below guidelines strictly:
Do not look directly into the UV light source nor place your hand, or expose your skin directly to the UV light source.
Depending upon print mode, there might occur some VOC emittance from printed parts not yet cured and hardened.
In addition, please read the instructions and guidelines of the manual carefully and follow those.
Contact Details
Villa A22, Italian Village, Erbil, Iraq
+964 773 072 6262