MIMAKI JFX200 SERIES FLATBED LED UV PRINTER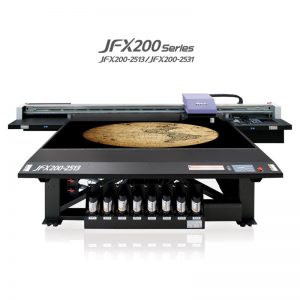 Introducing a new high-performance entry-level model flatbed printer – expanding possibilities in the printing business.
---
Developed using Mimaki engineering knowhow and technology, the JFX200-2513 is an entry-level model printer that is equipped with all the necessary performance, product quality, ease of use, and environmental friendliness required of a flatbed printer.
Featuring its ability to print onto media up to 50 mm (1.97 in.) thick and on irregularly-shaped media with high weather and friction resistance, the JFX200-2513 produces unparalleled results all in high definition, and works to expand customer business by accommodating a wide variety of needs and requirements:
"Clear ink" can realize high-value-added printing.
Low-cost model that retains high-quality print technology.
Newly developed print heads and MIMAKI's proprietary head control technology allow high quality print.
Convenient user features.
Power saving, long-life LED-UV lamps and bottle-fed ink are eco-friendly.
NEW UV curable ink "LUS-350"
PRINT POINT OF SALE
PRINT WALL GRAPHICS
PRINT DECOR
PRINT OUTDOORS
MIMAKI JFX200 SERIES FLATBED LED UV PRINTER
A choice of inks, including white and clear, offers unlimited creative opportunities, with the capability to print to a wide range of substrates. Easy to use and with a choice of compact footprints, the JFX200-2513 maximizes productivity by using industry standard (8′ x 4′) media on its 2.5m x 1.3m bed and the larger JFX200-2531 gives double the capacity, with its back-to-back media layout.
---
JFX200 DELIVERS
Highly productive print speeds up to 25m2/h and 12.5m2/h with simultaneous white ink printing
Max print area of 2.5m x 1.3m (JFX200-2513) or 2.5m x 3.1m (JFX200-2531) so ideally suited to printing  8′ x 4′ boards individually or in tandem
Newly developed MBIS-III ink supply unit, speeds up ink replacement process
MAPS – Mimaki Advanced Pass System, mask pattern effectively reduces banding
White circulation system for high reliability
50mm head height
New zoned vacuum bed
Vivid images even on transparent media through use of white ink
Print to almost any materials
Benefits from leveraging innovative LED UV curing technologies –
Ultra low power consumption
Print to heat sensitive media
Instant on/off lamp switching
Uses long lasting UV LED resulting in high environmental credentials
Mimaki Raster Link 6 RIP software included
---
BEAUTIFUL QUALITY PRINT ONTO A RANGE OF SUBSTRATES
Create striking imagery for use in retail, outdoor, exhibition, promotion and decorative installations
---
IDEALLY SUITED TO 8' X 4' FLAT SHEET
With a compact footprint, the JFX200-2513 maximizes productivity by using industry standard (8′ x 4′) media on its 2.5m x 1.3m bed. The new JFX200-2531 further improves productivity, enabling two 8′ x 4′ boards to be printed, reducing loading and unloading time.
DIRECT TO SUBSTRATE PRINTING
Save time and processes by printing direct to board with flexible inks that can be cut and creased
---
HIGH PRODUCTION PRINT SPEEDS FOR MAXIMUM EFFICIENCY
Print at up to 25sq m/h in full colour mode or 12.5sq m/h with white
The Mimaki JFX200-2513 prints up to 8 sheets of 8ft x 4ft (2,440 x 1,220mm) media per hour.
---
Production Example of JFX200-2513
Specifications of JFX200-2531
Item
JFX200-2531
Head
Staggered array of 2 heads
Print resolution
300, 450, 600, 900, 1,200dpi
Ink
Type
LH-100 (C, M, Y, K, W, CI)
LUS-120 (C, M, Y, K, W, Cl)
LUS-150 (C, M, Y, K, W)
LUS-200 (C, M, Y, K, W)
LUS-350 (C, M, Y, K, W, Cl)
Primer (PR-100, PR-200)
Ink supply system
Supplied from 1-litre bottles for each colour
Ink circulation system*1
White ink circulation using Mimaki Circulation Technology (MCT)
Maximum media size
2,500 x 3,100mm
Media
Dimensions (W×D)
2,500 x 3,100mm
(or 2 x 1,220 x 2,440mm panels)
Height
50mm
Weight
50 kg/m2 non concentrated load
Media absorption
Absorption fixed through use of a vacuum
Number of absorption
area partitions
4 partitions
(X-axis direction)
Range
accuracy
Absolute accuracy
±0.3mm or ±0.3% of the specified range, whichever is larger
Reproducibility
±0.2mm or ±0.1% of the specified range, whichever is larger
UV device
LED-UV system
Standard service life*2
Over 5,000 hours
Interface
USB2.0
Safety standard
VCCI class A, CE Marking, CB Report, UL (U.S. safety organization),
RoHS directive, UL 60950-1, FCC class A
Input power supply
Single-phase AC200-240V 12A or less, 8A or less (Two inlets)
Power consumption
2.88 kVA, 1.92 kVA (Total: 4.8 kVA)
Installation
environment
Temperature
15°C-30°C
Relative humidity
35%-65% RH
Accuracy maintained
temperature
18°C-25°C
Temperature gradient
Up to ±10°C/h
Dust
Similar to standard office environments
Dimensions (W×D×H)
4,400 × 4,290 × 1,250 mm
Weight
1000 kg
Contact Details
Villa A22, Italian Village, Erbil, Iraq
+964 773 072 6262