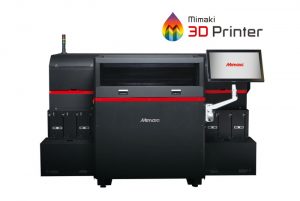 Mimaki 3D Printer Special Website
Photorealistic Color Accuracy
Mimaki offers the world's first *1 3D printer
with more than 10 million colors and UV-curable inkjet printing!
The 3D printer market growth continues to spread globally upon commencing from North America and Europe and its application is mainly entered in manufacturing industry and then penetrating to education, construction and medical business segment.
Mimaki 3D printer [3DUJ-553] has achieved the full color modeling with the capability of world first *1 over 10 million colors based on our developed technology of 2D inkjet printers of professionals use.
We will propose a new business utilizing [3DUJ-553] as its having rich color expression is better suited to create a final product such as real object sign or building model, of which an extra coloring has been difficult after the completion of modeling.
3DUJ-553
Product outlines
The world's first model of full color printing more than 10 million color tones
Remarkable expressive power for elaborate modeling by Mimaki's concentrated technologies
Excellent post process performance by availability of over coating and drilling
Usability in pursuit of "easy fabrication"
Secured operation support to minimize losses
Object signage by 3D printer
Mimaki proposal for Sign Graphics market
Object signage by 3D printer is considerably effective to be remarked and understood easily with its presence by the combination of realistic 3 dimensional motif and 2D image. [3DUJ-553] can express by more than 10 million different full colors and as well enhance the color reproducibility with the color adjustment employing the color profiles.
mock-up
Mimaki proposal for Industrial products market
[3DUJ-553] can satisfy professionals exacting requirement to make full color and fine modeling of strong preference into the details and final products, for example, figure, 3D map and mock-up. And the post processing like over coating and attachment of screws is also able to apply to an object after modeling.
Production Example of 3DUJ-553
*Click to view larger image.
3DUJ-553: Mascot character sign (Cafe) 3DUJ-553: Wall decoration (Art nouveau) 3DUJ-553: Building model (Kumamoto castle) 3DUJ-553: Building model (Map)
Mascot character sign (Cafe) Wall decoration (Art nouveau) Building model (Kumamoto castle) Building model (Map)
3DUJ-553: Hina Doll 3DUJ-553: Trial production (Gear) 3DUJ-553: Lamp shade 3DUJ-553: Accessories (Pierced earring)
Hina Doll Trial production (Gear) Lamp shade Accessories (Pierced earring)
For more details and other samples;
Mimaki 3D Printer Special Website: Sample gallery
*1 Survey as of August, 2017 by Mimaki Engineering
Model
3DUJ-553 Available modeling area: 508 x 508 x 305 mm (20 x 20 x 12″)
Specifications
3DUJ-553
Modeling method UV curable inkjet
Available color number Full color
More than 10 million different colors
Print head On-demand piezoelectric print head (8 head inline)
Ink Type/Color Modeling ink: MH-100 (C, M, Y, K, White, Clear)
Support material ink: SW-100
Tank volume C, M, Y, K: 3L
White, Clear, Support material: 5L
Supply style C, M, Y, K: 1L bottle
White, Clear, Support material: 4.8L bottle
Available modeling area
(W × D × H) 508 × 508 × 305 mm (20 × 20 × 12 in)
Minimum layer pitch 22 μm
Modeling time
*Mentioned data is the case of
modeling 100×100×100mm
(W×D×H) size object. High speed mode: 14.4 hours 600x300x600dpi (42 μm)
Standard mode: 17.0 hours 600x300x800dpi (32 μm)
High definition mode: 25.7 hours 600x300x1270dpi (22 μm)
3D data format STL, OBJ, VRML, PLY, 3MF
Software
(Standard accessories) Layout software [Mimaki 3D Link]
Interface Ethernet 1000BASE-TX
Power supply Single phase AC 100-120V/220-240V±10%
50/60Hz±1Hz
Safety standard VCCI Class A / FCC Class A / Compliant with UL60950, ETL /
CE Marking (EMC, Low Voltage Directive) / CB Report /
RoHS / REACH
Dimensions (W × D × H) 2,130 × 1,335 × 1,320 mm (83.9 × 52.6 × 52.0 in)
Weight 590kg (1300.7 lb) (mounted ink weight incl.)
Some of the screens and printing samples in this website are artificial renderings.
Specifications are subject to change without notice.
All trademarks or registered trademarks are the property of their respective owners.
When installation and operation training etc. of products are demanded on purchasing, an extra cost would be necessary except the products cost.
Inkjet printers print using extremely fine dots, thus colors may vary slightly following replacement of the printing heads. Also note that if using multiple printer units, colors may vary slightly among the units due to slight individual differences among the units.
3D modeling workflow
3D modeling workflow
Precautions for 3D modeling
Precautions for 3D objects
Please make sure to execute an advanced evaluation regarding the physical property (strength, weather resistance, safety etc.) for estimated applications.
Depending on application, a post-processing might be necessary such as top coating or wiping by ethanol.
Safety notice:
You are dealing with UV light sources that may harm your health. Please follow below guidelines strictly:
Do not look directly into the UV light source nor place your hand, or expose your skin directly to the UV light source.
Please make sure the room is well ventilated due to smells partially accompanying with 3D modeling.
Please use the attached goggles and globes when taking out an object or taking off support materials after modeling.
In addition, please read the instructions and guidelines of the manual carefully and follow those.
Ink
UV curable Ink
UV curable Ink
MH100-C-BA 3D MODEL INK MH-100 1L BOTTLE C
MH100-C-BA 3D MODEL INK MH-100 1L BOTTLE C
3D MODEL INK MH-100 1L BOTTLE C
PN MH100-C-BA
Volume 1,000ml
Supported model
3DUJ-553
MH100-M-BA 3D MODEL INK MH-100 1L BOTTLE M
MH100-M-BA 3D MODEL INK MH-100 1L BOTTLE M
3D MODEL INK MH-100 1L BOTTLE M
PN MH100-M-BA
Volume 1,000ml
Supported model
3DUJ-553
MH100-Y-BA 3D MODEL INK MH-100 1L BOTTLE Y
MH100-Y-BA 3D MODEL INK MH-100 1L BOTTLE Y
3D MODEL INK MH-100 1L BOTTLE Y
PN MH100-Y-BA
Volume 1,000ml
Supported model
3DUJ-553
MH100-K-BA 3D MODEL INK MH-100 1L BOTTLE K
MH100-K-BA 3D MODEL INK MH-100 1L BOTTLE K
3D MODEL INK MH-100 1L BOTTLE K
PN MH100-K-BA
Volume 1,000ml
Supported model
3DUJ-553
MH100-W-BD 3D MODEL INK MH-100 4.8L BOTTLE W
MH100-W-BD 3D MODEL INK MH-100 4.8L BOTTLE W
3D MODEL INK MH-100 4.8L BOTTLE W
PN MH100-W-BD
Volume 4,800ml
Supported model
3DUJ-553
MH100-CL-BD 3D MODEL INK MH-100 4.8L BOTTLE CL
MH100-CL-BD 3D MODEL INK MH-100 4.8L BOTTLE CL
3D MODEL INK MH-100 4.8L BOTTLE CL
PN MH100-CL-BD
Volume 4,800ml
Supported model
3DUJ-553
SW100-Z-BD 3D SUPPORT INK SW-100 4.8L BOTTLE
SW100-Z-BD 3D SUPPORT INK SW-100 4.8L BOTTLE
3D SUPPORT INK SW-100 4.8L BOTTLE
PN SW100-Z-BD
Volume 4,800ml
Supported model
3DUJ-553
Contact Details
Villa A22, Italian Village, Erbil, Iraq
+964 773 072 6262