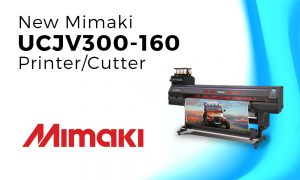 Leading the Future of Sign Graphics through UV Innovation
UCJV300-160
[UCJV300-160] is a versatile inkjet printer having a combined function of both printing and cutting mounted with UV-curable ink.
[UCJV300-160] is a high spec model equipped with the 4 layers print function in addition to UV LED print and Print&Cut.
This new model is enough to cover wider ranges from a quick job with short delivery time to an avant-garde signboard.
Product outlines
The future of Sign Graphics created by the 4 layers print
On-demand print utilizing UV characteristics
– Quick access to next processing and sign applying due to UV ink property
– Wide range of applications
Newly developed environmentally friendly UV ink, [LUS-170] and [LUS-175]
Productive cutting functions. A new function, [ID Cut] will highly improve the work efficiency
Upgraded RIP software, [RasterLink6Plus]
UCJV300-160 Features
Production Example of UCJV300-160
*Click to view larger image.
UCJV300-160: Outdoor signboard UCJV300-160: Illumination signboard UCJV300-160: Poster UCJV300-160: Banners and flags (fabric)
Outdoor signboard Illumination signboard Poster Banners and flags (fabric)
UCJV300-160: Swing P.O.P. (PET film) UCJV300-160: Label UCJV300-160: Wallpaper UCJV300-160: Shoji (sliding paper door)
Swing P.O.P. (PET film) Label Wallpaper Shoji (sliding paper door)
RasterLink6Plus
Specifications
CJV300-160
Print head On-demand piezo head
Print resolution 300dpi, 600dpi, 900dpi, 1200dpi
Droplet size Min. 7pl, Max. 28pl
Head gap 3 degrees adjustment (2.0/2.5/3.0 mm) by manual
Print speed 4C Draft mode: 25.8 sqm/h
4C Standard mode: 15.7 sqm/h
7C Draft mode: 13.4 sqm/h
7C Standard mode: 8.0 sqm/h
Ink Type LED-UV ink: LUS-170
LED-UV ink: LUS-175
*Only available in specific emerging countries
Color 4C (C, M, Y, K)
7C (C, M, Y, K, Lc, Lm, W)
Capacity 1L (Bottle supply)
Max. print width 1,610 mm (63.4 in)
Max. media width 1,620 mm (63.8 in)
Media thickness 1.0 mm or less
Media roll outer diameter φ250 mm or less
Media roll weight 40 kg or less
Cut speed Max. 300 mm/s (420 mm/s in 45 degrees direction)
Cut pressure 10-450 gf
Cutter Types Eccentric cutter, Blade for small character, Blade for reflective sheet,
Blade for fluorescent sheet, Blade for PVC with low-pressure
Safety standard VCCI Class A / FCC Class A / Compliant with UL 60950-1, ETL /
CE Marking (EMC, Low voltage, Machinery directive) / RoHS /
CB Report / REACH, ENERGY STAR® / RCM
Interface USB2.0 / Ethernet 1000 BASE-T
Power supply Single phase (AC100-120 / 200-240V±10%, 50/60Hz±1Hz) x2
Power consumption AC100V: 1.44kW / AC200V: 1.92kW x2 or less
Operational environment Temperature: 20-30 degrees (68–86 °F)
Humidity: 35–65% Rh (Non condensing)
Dimensions (W×D×H) 2,900 x 776 x 1,475 mm (114.2 x 30.6 x 58.1 in)
Weight 188 kg (414.5 lb)
Ink set
LUS-170
[C,M,Y,K,Lc,Lm,W] C M Y K
C M Y K Lc Lm W
LUS-175
[C,M,Y,K,Lc,Lm,W] C M Y K
C M Y K Lc Lm W
Some of the screens and printing samples in this website are artificial renderings.
Specifications are subject to change without notice.
All trademarks or registered trademarks are the property of their respective owners.
Inkjet printers print using extremely fine dots, thus colors may vary slightly following replacement of the printing heads. Also note that if using multiple printer units, colors may vary slightly among the units due to slight individual differences among the units.
Precautions for UV printing
Inks and substrates:
Please note that properties and adhesion, weather resistance etc. of ink and substrates can vary. Therefore please test materials before printing.
Some substrates require primer before printing. Please test materials beforehand or ask your sales representative.
Safety notice:
You are dealing with UV light sources that may harm your health. Please follow below guidelines strictly:
Do not look directly into the UV light source nor place your hand, or expose your skin directly to the UV light source.
Depending upon print mode, there might occur some VOC emittance from printed parts not yet cured and hardened.
In addition, please read the instructions and guidelines of the manual carefully and follow those.
Contact Details
Villa A22, Italian Village, Erbil, Iraq
+964 773 072 6262