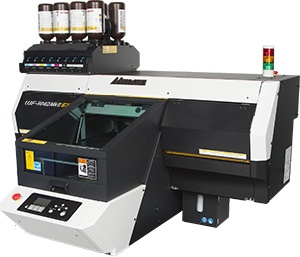 Just one print setting can complete four steps of high-added value creation with primer application to clear surface treatment !
---
"UJF-3042MkII EX" is the EXTRA model of " UJF-3042MkII", of which high productivity, excellent machine performance and beauty of print are reserved to upgrade the configuration from the 3 print heads to 4.
Supports A3 size & 153 mm height & 8 color.
The 4 print heads configuration enables an additional attachment of white, clear and primer ink with the process color (CMYK) of base as 8 bottles of ink can be mounted.
A current process of manual apply of primer and an extra job of surface treatment will be finished by one print setting of this new printer.
A compact but great UV-LED inkjet printer of A3 size, "UJF-3042MkII EX" realizes the high value added print.
---
---
---
UJF-3042MkII EX enables an additional attachment of white, clear and primer ink with the full color (CMYK).
White ink making more effective expression of full color print
Max. 2 bottles of white ink can be attached to the printer to realize the high density white print in a short time with more opacity.
Clear ink print to represent the texture and to enhance design
– Glossy finish, Matt effect, Embossed print
– 129 types of texture library are ready
The optional items of UJF-3042MkII will be equipped with UJF-3042MkII EX as the standard accessories!
– The [Status Indication Lamp] for check of printer status
– The [Vacuum table] to fix a print substrate on the table
– The [Emergency switch] to stop the machine operation in an emergency
– The [NCU (Nozzle Check Unit)] of auto-detecting nozzle-clogging
---
---
---
---
---
UJF-3042MkII EX
Printhead
On-demand piezo printhead
(4 printheads arranged in a staggered line)
Print resolution
Maximum: 1200 x 1200 dpi
Maximum printable area
Width: 300mm
Length: 420mm (A3 size)
Ink
Type/Color
LH-100 (C, M, Y, K, Lc, Lm, W, Cl)
LUS-120 (C, M, Y, K, Lc, Lm, W, Cl)
LUS-150 (C, M, Y, K, W)
PR-200 (Primer)
Packaging
LH-100, LUS-120, PR-200: 250 ml bottle / 1 L bottle
LUS-150: 1 L bottle
Media
Thickness
153 mm (6 in) or less
Weight
5 kg (11 lb) or less
Certifications
VCCI class A / FCC class A / ETL UL 60950-1 / CB /
CE Marking (EMC, Low voltage, Machinery directive, and RoHS)/ REACH / Energy Star / IEC60825-1
Interface
Ethernet / USB2.0
Noise level
Standby mode: 55dB or less (FAST-A, measured1 m away from the source)
Continuous operation: 65 dB or less
Discontinuous operation: 70 dB or less
Power supply
Single-phase AC100-240V, ±10%, 50/60Hz ±1Hz
Power consumption
1,000W or less
Operational environment
Temperature
20 – 30 degC (68 – 86 degF)
Humidity
35 – 65%Rh
Recomended Temperature
20 – 25 degC (68 – 77 degF)
Thermal gradient
±10 degC (±50 degF) /h or less
Dust level
Equivalent to a general office floor level
RIP software
RasterLink6 (Bundled)
Dimensions (W × D × H) *1
1,355 mm × 1,290 mm × 856 mm
(53.4 in × 50.8 in × 33.7 in)
Weight
135 kg (297.6 lb)
*1: The height (H) does not count the height of ink bottle.
– Inks would not be cured when printing speed is faster than that of draft mode.
Some of the screens and printing samples in this website are artificial renderings.
Specifications are subject to change without notice.
All trademarks or registered trademarks are the property of their respective owners.
Inkjet printers print using extremely fine dots, thus colors may vary slightly following replacement of the printing heads. Also note that if using multiple printer units, colors may vary slightly among the units due to slight individual differences among the units.
Contact Details
Villa A22, Italian Village, Erbil, Iraq
+964 773 072 6262