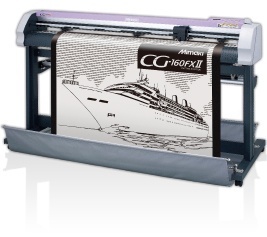 World standard of multi cutting plotter
---
– Continuous crop mark detection
– Long accurate tracking
– FineCut – Plug-in for print & cut solutions
---
Line-up
---
*Media baskets are optional.
---
CG-75FXII
Effective cutting area 760mm×51m(29.9″×167′)
---
---
CG-130FXII
Effective cutting area 1300mmx51m(51.2″x167′)
---
---
CG-160FXII
Effective cutting area 1600mmx51m(62.9″x167′)
---
Specifications
CG-75FXII
CG-130FXII
CG-160FXII
Acceptable sheet width
90mm~1,040mm (3.54″~40.9″)
90mm~1,580mm (3.54″~62.0″)
90mm~1,880mm (3.54"~74")
Acceptable roll sheet
Outer less than φ200mm , Roll weight less than 18kg
Outer less than φ200mm Roll weight less than 22kg
Effective cutting area*1
760mm x 51m(29.9″ x 167′)
1,300mm x 51m(51.2″ x 167′)
1,600mm×51m(62.9"×167')
Maximum auto cutting width*2
870mm (34.2")
1,425mm (56.1")
1,720mm (67.7")
Maximum cutting speed
100cm/s (39.3″/s)
Maximum moving speed
140cm/s (55″/s)
Adjustable speed range*3
1-10cm/s : 1cm step adjustment
(0.39″-3.94″/s : 0.39″ step adjustment)
10-50cm/s : 5cm step adjustment
(3.94″-19.68″/s : 2″ step adjustment)
50-100cm/s : 10cm step adjustment
(19.68″-39.37″ : 3.94″ step adjustment)
Mechanical resolution
5µm(0.0002″)
Command resolution
25µm or 10µm(0.001″ or 0.0004″)-MGL-IIc
Repeatability
±0.2mm (Excluding shrinkage / expansion caused by the film temperature)
Tekanan pen
400g
Range of down pressure
Cutter
10~20g(2g step), 20~100g(5g step), 100~400g(10g step)
Pouncing
10~20g(2g step), 20~100g(5g step), 100~400g(10g step)
Pen
10~20g(2g step), 20~100g(5g step), 100~150g(10g step)
Acceptable sheet*4
Vinyl up to 0.25mm(0.01″)thickness,
Fluorescent type vinyl Reflective sheet
Acceptable sheet for pouncing*5
Paper thickness: 0.06~0.13mm (0.0024″~0.005″)
Applicable tools*6
Cutter, Water based ball-point pen,
Oil based ball-point pen, Pouncing tool
Type of command
MGL-IIc
Interface
RS-232C,USB
Receiver buffer size
30MB Standard (20MB when in sorting)
Operational
Temperature
5~35°C (41~95°F)
Humidity
35~75%(Rh) Non-condensation
Power requirement
AC100V~240V
Power consumption
145VA or less
Dimensions (WxDxH)
1,285mm(50.5″)x
700mm(27.5″)x
1,217mm(47.9″)
1,825mm(71.8″)x
700mm(27.5″)x
1,217mm(47.9″)
2,125mm(83.6″)x
700mm(27.5″)x
1,217mm(47.9″)
Weight (with stands)
50kg(110 lbs.)
60kg(132 lbs.)
69kg(152 lbs.)
*1: Maximum sheet feeding length differs depending on the software.
*2:Sheet width to cut off from the roll.
*3:Restricted sheet width.
*4:Provided that the blade specific to fluorescent type vinyl (SPB-0007)and the blade specific to reflective sheet (SPB-0006)are used.
*5:Pouncing tool intended specifically for pouncing shall be used.
*6:The goods on the market are φ8~φ9 Pen. No guaranty with accuracy, and image quality.
Specifications are subject to change without notice.
All trademarks or registered trademarks are the property of the respective owners.
Contact Details
Villa A22, Italian Village, Erbil, Iraq
+964 773 072 6262