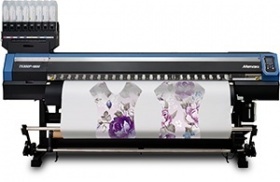 Next Generation
---
A high-quality, high-production printer is no longer a special product.
Mimaki adds a new value to the next-generation printer "TS300P-1800″.
Developed for the textile print industry, the TS300P-1800 delivers cost-effective printing while maintaining high quality and productivity.
---
Cost-effective solutions
・Cockling-reduction media transfer mechanism and new printhead
・Sb410: High-performance, low-cost sublimation transfer ink
Mimaki's print technologies for achieving beautiful printing
・Superior inkjet technology
・Mimaki Advanced Pass System 4 (MAPS4) reduces banding
High productivity at 115m2/h maximum print speed
115m2/h maximum print speed with 4-color printing and 65m2/h with 6-color printing.*
*115m2/h: 4-color draft mode / 360 × 360 dpi / 1 pass
*65m2/h: 6-color draft mode / 360 × 360 dpi / 2 pass
Uninterrupted printing solutions
・Nozzle Check Unit (NCU) automatically detects and cleans clogged nozzles
・Nozzle Recovery System (NRS) uses only good nozzles as substitutes, when the clogged nozzles are not recovered after cleaning
・Mimaki Bulk Ink System 3 (MBIS3) for long-time continuous printing
High-performance RIP software TxLink3 Lite
The TxLink3 Lite offers simple RGB and CMYK color replacement on raster and vector data, as well as the ability to produce different color patterns. Moreover, various color replacement functions can represent desired colors.
* TxLink3 Lite or RasterLink6 is bundled according to a user's choice.
---
Dye sublimation printing
Sublimation ink
---
---
Production Example of TS300P-1800
---
*Click to view larger image.
Specifications
TS300P-1800
Printhead
On-demand piezo head (4 in-line printheads)
Print resolution
360 dpi, 540 dpi, 720 dpi, 1,080 dpi
Maximum print width
1,940 mm (76.4 in)
Maximum media width
1,950 mm (76.8 in)
Ink
Type/Color
Sb410(Bl, M, Y, K, Lbl, Lm, Lk, Fp, Fy)
Package size
2L Ink pack
Media thickness
1.0 mm or less
Rolled media weight
40 kg (88 lb) or less
Certifications
VCCI class A, FCC class A, ETL UL 60950-1,
CE Marking (EMC, Low voltage, Machinery directive, and RoHS),
CB, REACH, Energy Star, RCM
Interface
USB 2.0 Hi-speed / Ethernet 1000BASE-T
Power supply
Single-phase (AC100 – 120V / AC200 – 240V)
Power consumption
AC100V: 1.44kW / AC200V: 1.92kW
Operational environment
Temperature: 20 – 30 °C (68 – 86 °F)
Humidity: 35 – 65% Rh (Non condensing)
Dimensions (W × D × H)
3,200 x 850 x 1,857 mm (126 x 33.4 x 73.1 in )
Weight
213 kg (469.6 lb)
Ink set
Sb410
[Bl,M,Y,K,Lbl,Lm,Lk,Fp,Fy]
Bl M Y K
Bl M Y K Fp Fy
Bl M Y K Lbl Lm
Bl M Y K Lbl Lm Lk
Bl M Y K Lbl Lm Fp Fy
Some of the samples in this website are artificial renderings.
Specifications, design and dimensions stated in this website may be subject to change without notice (for technical improvements, etc).
The corporate names and merchandise names written on this website are the trademark or registered trademark of the respective corporations.
Inkjet printers print using extremely fine dots, so colors may very slightly vary after replacement of the printing heads. Also note that if using multiple printer units, colors could vary slightly from one unit to other unit due to slight individual differences.
Depending on image files used for printing, the print quality would be affected when printing in a low-resolution mode with the lowest number of passes.
Contact Details
Villa A22, Italian Village, Erbil, Iraq
+964 773 072 6262